EFLOOR – the latest flooring innovation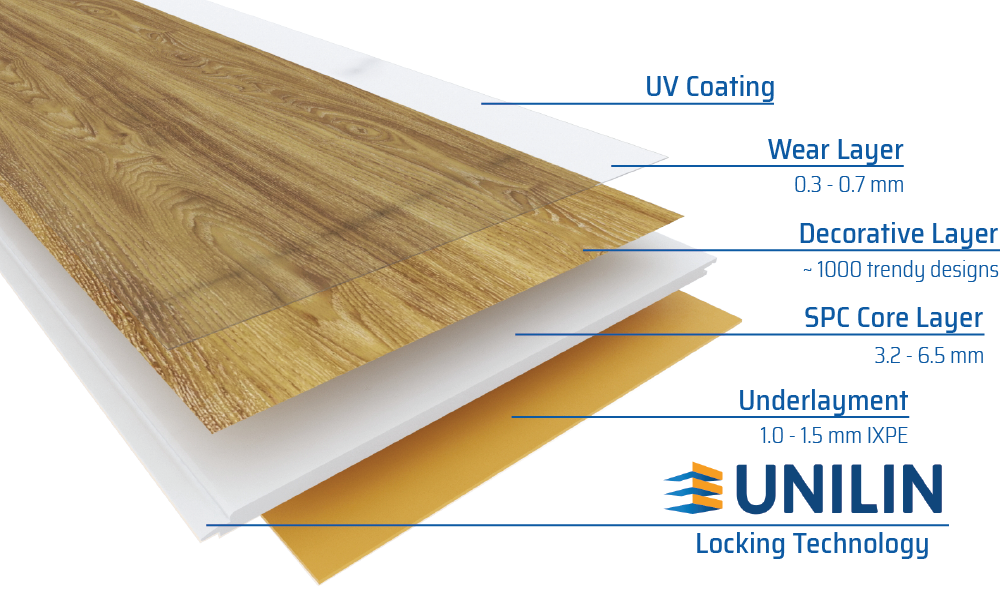 What is SPC Flooring?
SPC Flooring stands for stone plastic composite flooring. It is an engineered luxury vinyl that combines limestone, PVC powder and stabilizers to create an extremely durable core. An SPC vinyl floor is still 100% waterproof, but adds stability, dent resistance and structure to vinyl plank flooring.
Standard EFLOOR plank is constructed with 5 layers:
Double UV Coating Layer: ensure superior stain-resistant performance and help the planks anti-fading from sunlight.
Wear Layer: is the top coating on the vinyl floor that is transparent. This layer offers extreme protection from scuffs, scratches and stains, making floors easy to clean.
Decorative Layer: stretch your imagination with high-definition designs, featuring dramatic wood and stone visuals with deep authentic textures for unforgettable floors.
SPC Core Layer: is made by combining limestone powder and stabilizers to create a dimensionally stable and 100% waterproof core.
Underlayment: It is optional. However, each standard EFLOOR plank includes attached iXPE layer, providing density for enhanced stability and natural sound underfoot.
Besides, the EFLOOR planks use latest UNILIN locking system for ease to install. installs with Extreme ease. Once assembled, the locking system keeps joints tight for 100% waterproof floors.
| | |
| --- | --- |
| Sizes (mm): | 150 × 900, 180 × 1220, 230 × 1220, 300 × 600 |
| Sizes (inch): | 6″ x 36″, 7″ x 48″, 9″ x 48″, 12″ x 24″ |
| Wear Layer: | 0.3mm, 0.5mm, 0.7mm |
| Core Layer: | 4.0mm, 5.0mm, 5.5mm, 6.0mm, 7.0mm |
What is EFLOOR – waterproof composite flooring?
EFLOOR waterproof composite flooring is the latest generation of engineered luxury vinyl floor with the SPC core layer. This SPC layer combines limestone, PVC powder and stabilizers to create an extremely durable core. EFLOOR is not only 100% waterproof, but also adds stability, dent resistance and structure to vinyl plank flooring. Especially, EFLOOR meets all strict health safety standards, not including any toxic chemicals. EFLOOR is one of the most conformity of house, restaurants, office buildings, hotels and other commercial applications as a way to keep their facility look clean and well-kept for years to come when there is much traffic per day.
Top benefits of EFLOOR SPC
EFLOOR with SPC core is becoming one of the most popular floors to install for a variety of reasons. If you're a homeowner, property manager or business owner, SPC flooring could be a great option for your next project!
Waterproof: This is one of the biggest factors in choosing EFLOOR. It is 100% waterproof, which means it can be installed in almost rooms from kitchens, bathrooms, laundry rooms to restaurants without worry!
Stability in Temperature Fluctuations: With the stone construction, an EFLOOR plank is more stable in environments with temperature changes, such as cabins, homes with AC units and homes with humidity fluctuations.
Appearance: EFLOOR can have a variety of looks, textures and styles. It will be hard to believe they are vinyls!
DIY Installation: EFLOOR designed their own locking system which easy to install. No glues or extra tools are required! They can also be used on top of other types of subfloors or existing flooring.
Comfort: EFLOOR is going to feel more sturdy and cushioned under foot than other floors due to the dense core and thickness of the plank. A thicker plank will give you more comfort. Also, EFLOOR have attached underlayment that adds to the softness under foot.
Sound: With the dense core, this plank tends to have a quieter sound. You will not hear a hollow sound when you walk on it.
Affordability: EFLOOR is very budget friendly. With all-in-ready, you can even save labor cost by do it yourself easily.
Easy Maintenance and Cleaning: EFLOOR planks are very durable, and resistant to stains, wear and tear, and scratches. To maintain, regular sweeping and vacuuming can be done. They can also withstand direct exposure to sunlight.
With all the benefits, you can see why this is such a highly rated material! From a cushioned step, to dent resistance and waterproof core, you can't go wrong with this choice. Whether it is for a busy home, rental property or business, this floor does it all.