Many recent studies have found that sleeping on the floor at the end of the day efficiently relaxes the nerves. And if you suffer from low back pain or have poor circulation… Spend at least one hour each night sleeping on the floor

The benefits of sleeping on the floor
Traditionally, it was thought that lying on the floor made one more susceptible to colds. However, a surprise development has occurred, with numerous studies demonstrating that sleeping on the floor or without a pillow is beneficial to one's health. Let's take a look at some of the benefits below:
Sleep well and get rid insomnia
The material of blankets and mattresses can cause the body to sweat at night, disrupting sleep. Furthermore, the effects of sleeping in the incorrect position, which causes the shoulders to be in the incorrect position as a result of the incorrect sleeping position. Sleeping on the floor, on the other hand, not only reduces pain, shoulder fatigue, and low back pain, but it also improves pain, shoulder fatigue, and low back pain. Sleeping on the floor, in particular, is very good for the spine system, as it improves blood circulation and helps with chronic insomnia.
Good circulation
We think of sleeping on the floor as a way to unwind at the end of the day. Within an hour, the nerves can be entirely relaxed, massaged, and free of tension, discomfort, and pain. Good blood circulation, in particular, will assist the body become more flexible and healthy, as well as reduce the risk of serious heart issues.
Back pain relief
If you sleep on the floor and don't use a pillow, this small practice will assist to straighten your head, neck, spine, hips, and entire body. If you use this strategy for at least three nights in a row for a week, you will notice a significant improvement in the condition of your shoulders, as well as relief from pain. 
Low back pain is the most prevalent among them in women. This condition can be avoided by sleeping on the floor and keeping the spine in an upright position, according to medical specialists.
Tips for sleeping on the floor
Sleeping on the floor has the advantage of assisting in the regulation of body temperature in the event of illness, as well as preventing harmful bone, blood, and muscle illnesses. However, Medical experts advise that persons who have had a bone injury or are being treated for bone and joint problems avoid doing so.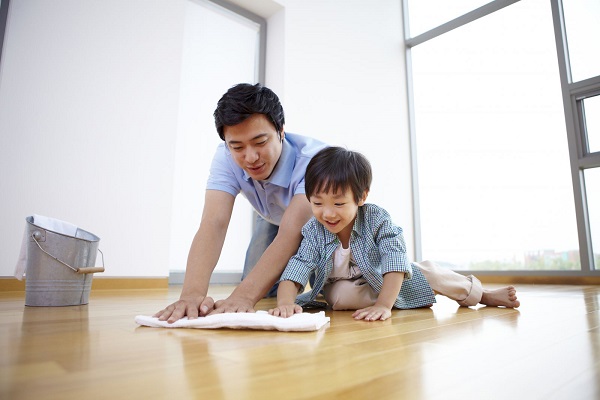 Simultaneously, in order for lying on the floor to provide the same health benefits as we desire, we must also consider the following:
Clean the floor:

the floor, more than any other surface in the house, has the greatest interaction with the human body. We move, exercise, eat, work, and now, at the end of the day, we use it to rest, relax, and sleep. As a result, becoming dirty will be fairly easy. To keep the living place clean, beautiful, and healthy by cleaning it on a regular basis.

Install safe flooring:

today's flooring materials are available in a variety of styles, materials, and levels of quality. However, fake goods, copycat goods, and low-quality goods with an unknown origin can still be found in many sorts of good products. To avoid having to deal with unpleasant issues while choosing the type of flooring to install in your home, learn about the product's origins, components, and acquire it at a genuine point of sale.
Using EFLOOR Waterproof Composite Flooring (also known as EFLOOR's SPC locking plastic floor) in construction is a wise investment that pays off in the long run. This is a new generation of high-end flooring goods made from environmentally friendly ingredients and a super-durable core layer made of stone powder, primary plastic, and stabilizers.
With qualities such total water resistance, anti-slip, anti-warping, easy cleaning, rich, diverse, and delicate patterns, products not only help raise the living environment to a class, but also serve as a companion allowing consumers to enjoy life with peace of mind every day.
EFLOOR – The new brand of NEW ERA HOME BLOCK TILE JSC.
– ☎ (+84) 28 3526 7177
– ✉️ info@efloor.asia
–  60 Dang Dung St., Tan Dinh Ward, District 1, HCMC.